The Canine Devine Farm
Canine Devine Farm was founded on a passion for dogs and helping others, and the belief that all dogs deserve a loving, healthy, and active lifestyle. We have 8 beautiful acres where your dog can run freely and enjoy the open space and fresh air. We nurture, care for, and love your dog as if they were our own family member. Visit our farm page to learn more.
The Canine Devine Foundation
In the near future, we will join Canine Devine Farm therapy dogs with cancer and traumatic brain injury patients to help assist in their recovery and ongoing treatments. Learn more.
Our Story
I probably shouldn't be able to walk, let alone compete in triathlons. But I can do both, and the Canine Devine Farm is a celebration of this.
Years ago, I was living a full, successful life by most standards. I closed million dollar deals for work and competed in triathlons for fun. Everything was right on track.
Or so I thought.
In 2008, I was training for another half-Ironman when I began to notice what I hoped were simple stomach pains during my runs. Though I tried to convince myself it was nothing, I met with a GI specialist and we scheduled a colonoscopy. She put me at ease as she said it was probably just stress. It wasn't.
My life changed in an instant as I learned that I had stage III colon cancer. I would need to have surgery and begin chemotherapy immediately. Moving through that healing process was the most difficult thing, physically and emotionally, that I had ever done.
Yet I did survive, and within one year of being cancer-free, I was back to training for triathlons again. I was a success story, and I would thrive in my newly recovered health.
And then, once again, life had other plans.
Two years after my 2008 diagnosis, I was biking down a mountainside when I hit some uneven pavement, crashed, and broke my neck. I destroyed my third cervical vertebrae, which pretty much controls all motor functions.
Amazingly, an off-duty EMT had seen me crash and came to the rescue. I was given the care I needed and miraculously made a full recovery. Two years after the accident, I was able to compete in my first full Ironman Triathlon.
Moving Forward with the Help of Bruno
People are often impressed the strength I've shown in coming back from stage III cancer and a critical neck injury. But I couldn't have done any of this alone. I could never have survived without my dog and best friend, Bruno.
During the six months I went through chemotherapy, Bruno was at my side. I remember lying in bed, feeling very weak and sick from the chemo drugs, and Bruno would climb up onto my bed and snuggle with me. My mood would immediately change. I could feel Bruno's energy right away, and it helped to lift my spirits.
Having Bruno physically next to me, petting him and receiving his wet, sloppy kisses completely changed my outlook. I wanted to be stronger. I wanted to fight that disease. Bruno gave me another reason to live.
There were also times when Bruno became my sounding board. He was my one true outlet for listening to how scared I was about dying. He listened as I tried to figure out why this was happening to me. He quietly licked my tears when I had to cry. He wouldn't respond with "Don't worry" or "You're going to be okay." He let me feel what I needed to feel without judgement or pressure to put on a happy face.
After I broke my neck, Bruno provided me with the same natural healing.
Once I got home from ICU and my long hospital stay, I was in a solid neck brace and very sensitive to anyone getting close to me, fearing they'd somehow injure my neck again.
When Bruno first saw me after the accident, he very gently walked up to me and snuggled against my legs and body. While he usually greets me exuberant kisses, he intuitively knew to be gentle after my accident. He read my body language perfectly, and seemed to guard me from anything that could have injured me again.
Life at the Farm & Giving Back
Today, I'm totally cancer-free and fully recovered from my traumatic neck injury. My life has changed dramatically, and I now want to give back to both those suffering from difficult life experiences and the furry friends that give us all so much.
You don't need to undergo a traumatic experience to understand how important our four-legged family members are. They love us unconditionally, and I want to make sure we give them the best life possible in return. That's why I created the Canine Devine Farm as a sanctuary for our loving dogs.
Bruno is now getting trained as a certified therapy dog, and the two of us currently visit hospitals and rehab centers with other therapy dogs. It's amazing to see how patients respond to him. I've created the Canine Devine Foundation to provide training and resources for other therapy dogs and their owners.
Life is precious, and so are our furry friends.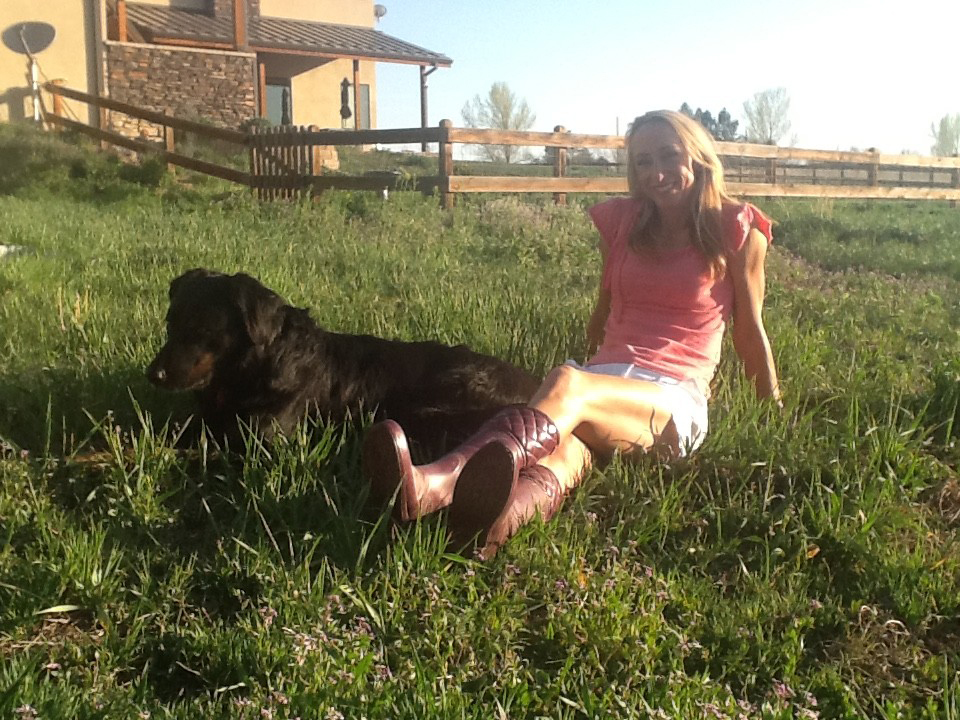 About Nancy
Passions: Happy dogs, making my dream a reality, staying fit.
My soulmate and one true love: Bruno.
Favorite Things: Dinners with close friends, rustic elegance, jeans that fit perfectly, dark chocolate.
Property inspiration: Open space + fresh air + compassion + progressive/creative thinking + giving back.
If I were 20 years younger: I'd be a professional snowboarder.
Me in a nutshell: Athlete, businesswoman, loyal friend, popcorn lover.
What gets me going in the morning: Strong coffee on my patio, chirping meadowlarks, cool ideas for sharing my amazing property with others.
Biggest challenges: Yup. Stage III colon cancer and a broken neck.
Icing on the Cake: Recovering from both and completing a full Ironman as my comeback!
About Bruno
Passions: Long trail runs, swimming after tennis balls, giving wet, sloppy kisses.
I really miss: Dolce, my best friend, who taught me everything I know.
Favorite Things: Belly rubs, steak leftovers, Saturday mornings on the bed, open car windows.
If I could talk: I'd ask for seconds and say thank you for all the love I receive.
I think humans: Underestimate how much my friends and I understand, should work less and play more, shouldn't be so stingy with the treats.
Me in a nutshell: Loving therapy dog, great listener, heart of gold, best dog ever.
What gets me going in the morning: Our first sunrise walk on the property, the smell of pancakes and bacon.
Once in a while: I chase after bunnies, bark at delivery trucks, bury my bones.
Most important job: Being Nancy's best friend.